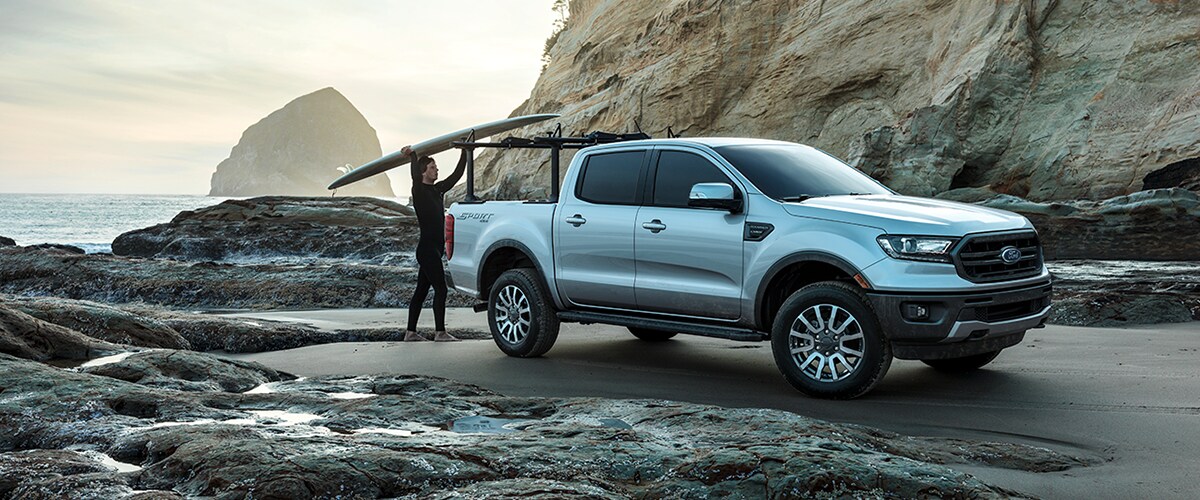 BUILT FORD TOUGH®
Ford engineers set a grueling test regimen to prepare the new Ford Ranger for the demands of multi-terrain travel. Durability trials on roads so punishing that robots were called in to do the driving. Days of constant shaking in the lab to help identify and reduce squeaks and rattles and to tune suspension parts and body mounts for durability and performance. Towing heavy loads over hours up steep grades at 100 degrees Fahrenheit. And traveling under heart-pounding, bone-jarring off-road conditions. The new Ford Ranger. It's more than up to the challenge of taking on your toughest test.
THE ULTIMATE ADVENTURE GEAR.
This is what freedom looks like today. The all-new 2019 Ranger has the toughness and capability to leave civilization far behind - because adventure begins where the road ends.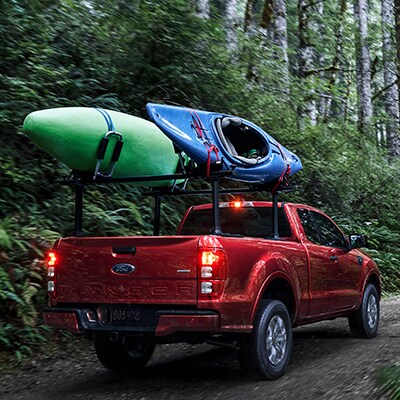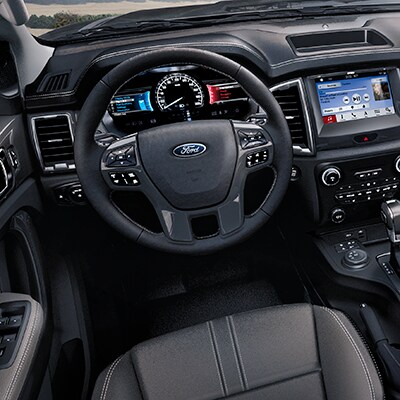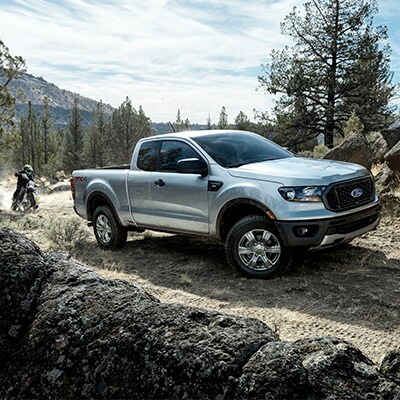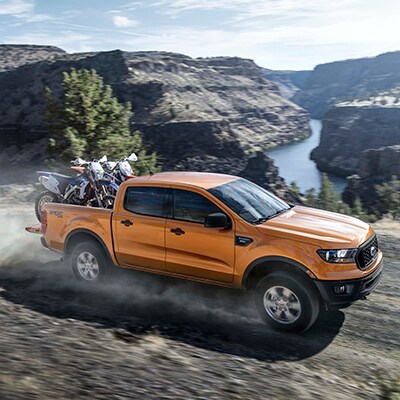 2.3L ECOBOOST WITH BEST-IN-CLASS GAS TORQUE
Raw torque rules when you're taking on the rugged demands of off-road terrain. And the new Ford Ranger beats all other gas-powered pickups in its class with a torque rating of 310 lb.-ft. The 270 horses under the hood are mighty impressive too. The 2.3L EcoBoost is engineered with a twin-scroll turbocharger that extracts exhaust gas from pairs of cylinders in alternating sequence, maximizing pulse energy to the turbine wheel for responsiveness on demand with virtually no lag.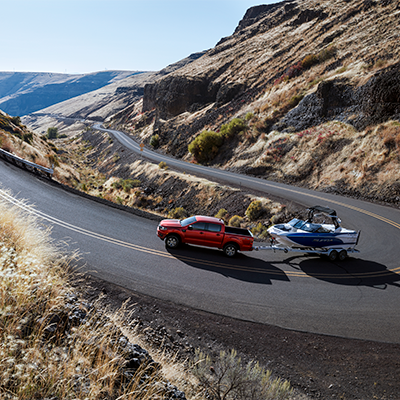 BEST-IN-CLASS GAS PAYLOAD AND TOWING
You carry gear - and lots of it. And the new Ford Ranger has these big advantages over other gas-powered midsize pickups: best-in-class maximum 1,860-lb. payload and 7,500- lb. tow ratings. Need to haul more? Tow more? Head out to your next adventure in the all-new Ranger.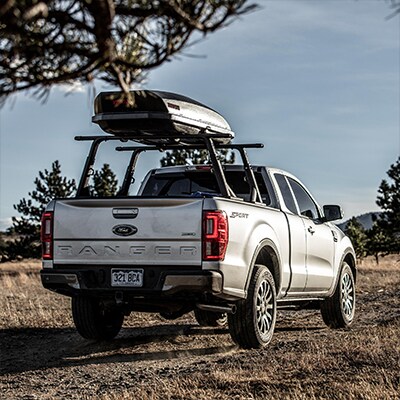 BEST-IN-CLASS EPA-ESTIMATED GAS MPG
For all the best-in-class gas torque it generates, the all-new Ford Ranger is the most fuel-efficient gas-powered midsize pickup in America. The 2.3L EcoBoost features the direct-injection (DI) system. With DI, gas is injected at high pressure directly into the combustion chamber in a very precise measure. The engine also features Auto Start-Stop Technology. When you come to a stop, the engine shuts off to save fuel and restarts immediately when the brake is released. Designed smart for truck applications, auto start-stop deactivates when it wouldn't be needed, such as when you're towing a trailer or running in four-wheel drive.
BUILT FORD TOUGH® DNA
The all-new 2019 Ranger has been developed and tested to the demanding standards of Built Ford Tough. It shares a heritage of toughness, durability and capability derived from over 100 years of Ford Trucks' relentless focus on engineering excellence.
STAY CONNECTED. EVEN OUT HERE.
The FordPass Connect feature in the Ranger can create an in-vehicle Wi-Fi hotspot to which you can connect up to 10 devices, so your passengers can stay in touch wherever you roam.174 You can also use FordPass™ to keep track of your Wi-Fi data usage. The hotspot can be accessed up to 50 feet outside the vehicle.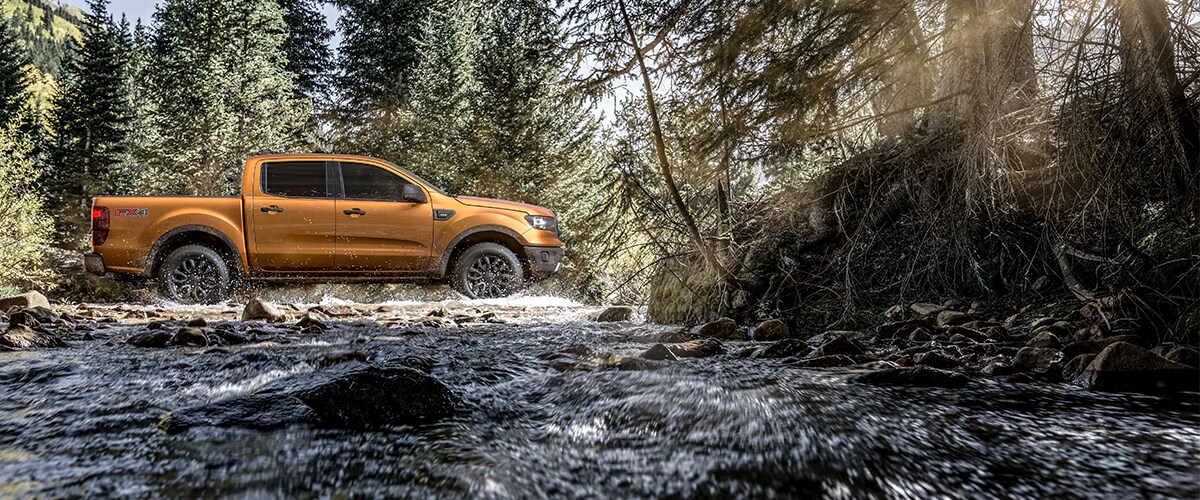 Hours
Monday

9:00AM - 7:00PM

Tuesday

9:00AM - 7:00PM

Wednesday

9:00AM - 7:00PM

Thursday

9:00AM - 7:00PM

Friday

9:00AM - 7:00PM

Saturday

9:00AM - 7:00PM

Sunday

10:00AM - 6:00PM